In the heart of the most beautiful regions of France, this sound of destinations rich in multiple preserved sites, sumptuous landscapes, spectacular viewpoints, unusual routes, poetic paths … that we invite you to discover.
Different styles of hiking trips:
• Free walking,
• Accompanied hike * (certified guide, guide or activity leader),
• Hiking & visits,
• Nordic's walk,
• Soft walk,
• Themes: well-being, wine routes, fauna, flora, mushrooms, heritage…
* according to hotels and regions
More info :
– Competitive rates & adjusted according to the number of participants in the stay.
– Hiking advice and information *: routes according to level (beginners, good walkers, experienced, etc.), maps, topo-guides, technical information, etc.
– Equipment rental *: hiking poles, walking shoes, backpack …
* according to hotels and regions
To make your hiking trip a success:
You are in direct contact with the hoteliers, you benefit from their regional expertise and their logistics to organize tailor-made stays that will delight your participants,
Between friends, organized groups … constitute your own group on the date of your choice and personalize your program according to your desires: freedom hike, accompanied hike, flora and fauna hike, heritage hike, Nordic walking, hike tours, hike tastings …
To find out in detail the hiking routes, the services of the hotel and to request your fully personalized quote: contact the hotel of your choice quickly.
Your hotel is ideally located and you will enjoy, after a beautiful day in the great outdoors, warm comfort and gourmet cuisine.
To relax and unwind after the hike: swimming pool *, sauna *, hammam *, massages * relaxation…
* to be booked with the hotel, available on site or nearby.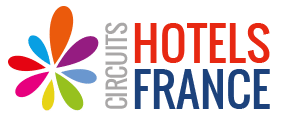 Hotels offering this activity