Quality and classification of hotels
It is Atout France, the Tourist Development Agency of France, which pronounces the classification of establishments on the basis of checks carried out by accredited audit bodies. The classification is subject to a check every 5 years. The register of hotels classified in France is freely available on the Atout France website. The hotels are assessed according to the following three main axes: the level of comfort of the facilities, the services offered in the establishments, good practices in terms of respect for the environment and reception of customers with disabilities.
To know :Each year, the Hôtels Circuits France hoteliers renovate, innovate and invest for your comfort and your well-being (rooms, bathrooms, elevators, swimming pool, spa, training of teams, kitchen equipment, etc.).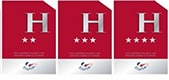 Tourism registration – Security

The hoteliers are registered in the National Register of Travel and Stay Operators within the framework of the Tourism Registration (IM) and they fulfill, as such, the conditions of professional liability insurance and financial guarantee required.
The hoteliers ensure compliance with the laws, regulations and standards in force, in particular in terms of security and in terms of accessibility for people with reduced mobility.